Last week I mentioned that we were planning to go to the beach if the weather was still nice and sunny ... well we did go but we did not swim as the weather wasn't that nice :( In fact, it was cloudy and a bit windy too, so we just had a picnic by the beach, which was still nice. We had lots of goodies to eat and we really enjoyed each others company. Well, it looks like I will have to wait for next year .. and in the meantime we are already preparing for Christmas and making Christmas cards. In fact the theme for this week at
is
TRADITIONAL CHRISTMAS
It's the first Christmas card I made for this year and I really enjoyed making it and getting out all my Christmas stuff. Love the traditional Christmas colors.
The background DP was a freebie paper pack in a magazine, as was the 'Joy to the world' sentiment and the large 'NOEL' banner is recycled from an old Christmas card. I love it when I recycle something or use up something which I've had for quite some time... like the Christmas tree here to which I added two bells and a bow.
We have two sponsors this week.
The first one is the
Stamping Boutique
and the image that I am using today is from The Stamping Boutique. Prize is 2 images or 3 images if the entrant has used a Stamping Boutique image.
Our second sponsor for this week is
Letraset
and here is their prize .. these fabulous new promarkers that have gone on sale in UK and Europe!!! Wow, I'd love that too !!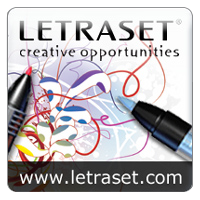 Some exciting news now as I just found out that I was the lucky winner at
Kenny K's Krafty Krew
challenge with my card from last week. Looking forward to more Kenny K digis to add to my every growing collection :)
Entering my card in these challenges today:
Thank you for looking
xxx