I still have a few days vacation leave to take this year, so seeing that today was a Public Holiday here in Malta, I took yesterday and tomorrow leave as well yay ....... five days in a row off from work !!! Have some fun filled days planned ...
... yesterday I went off to the pool with my younger son and a friend with her kids. My son has been telling me so much to take him to a pool instead of to the beach for a change so we finally went yesterday! Spent all day long there, we loved it! Today we went to the beach... tomorrow some errands .. and on Saturday we are going to the Splash and Fun water park with friends... ending that with a bbq till late yay.. so looking forward.
I still managed to fit in some crafting.. This is a card I was making just for fun.
The image that I used,
Lady in Scarf
, is another of the stamps that I got from the Fundraising for Lydall store. I coloured her with my promarkers, flowers are CREAlies die.
There are many digis and some goodies as well being sold to raise funds for Lyndall, who is battling cancer.
Go
here
if you would like to help.
My challenges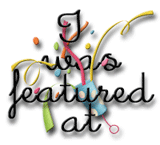 with this
card
. I am always so excited when this happens :) Thank you girls.
And I have also received a lovely Blog Award from
Marjo
Thank you girls for thinking of me, I am honoured to accept and post on my blog.
Thank you for looking.
Hugs
xxx