Hello everyone, hope you're having a good week. My past weeks weren't so good unfortunately as we had some devastating news on the 7th January that my mum passed away. She was 81years old but still so healthy and up on her feet everyday, so we weren't expecting this at all. It was really hard but I said that life has to move on so I just pushed myself to get back into routine, first back to work, which really helped and then back to my fitness routine and today back to card making! Not that we will forget, but it's the best medicine believe me!
Anyway, it's time for a new challenge at
I ♥ Promarkers
and this week the challenge is
MEN AT WORK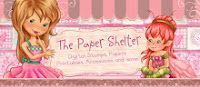 I immediately remembered about some DP that I had from a magazine, so from then on it was easy peasy. The big fun heart and the sentiment were also in this set.
I really enjoyed making this card, and it was really relaxing for me.
As I said we are this week sponsored by
The Paper Shelter
and the prize is a $15 voucher.
Entering my card in these challenges today.
Thank you for looking
xx