Hello everyone, and hello May, my birthday month :) and soon Summer yay I love Summer. I can't wait to start going to the beach. The weather has been awful lately, always so windy, so I'm really really hoping that at least on my birthday it will be nicer and warmer to hopefully have a dip.
Anyway, today it's Wednesday so it's a new challenge at
We got a lovely theme this week, one you will surely love
LACE and/or RIBBON
To make up my card I used DP from Dovecraft .. and wow I can't believe it!!! .. no die cuts!! There are lots of stuff, peel offs, a doily, a bow, a butterfly, a flower, pearls and of course the ribbon and lace, but no die cuts! Only now I realised.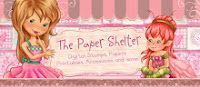 I am entering my card in these challenges today
yippee :)
Thank you for looking
xxx